Removes existing H2S and prevents buildup

The highly active bacterium Paracoccus spp.in PondDtox® oxidizes H2S into harmless compounds. In laboratory trials, PondDtox® removed H2S within 3-4 days.

Reduces mortality in aquatic animals

Continued exposure to H2S will kill aquatic animals. Even levels as low as 0.002ppm can have negative effects on animal health and performance. A common sign of H2S problems are increased mortality after 35-45 days of stocking or during the later stages of culture. By removing and preventing the buildup of H2S, PondDtox® protects aquatic life in your ponds.

Boosts body weight, growth and yield

Another common sign of H2S problems is reduced feeding. By safeguarding against toxic buildups, PondDtox® can help your farm avoid this problem. In shrimp pond trials, application of PondDtox® led to a 9% increase in average body weight. It also resulted in a 12% improvement in average daily growth and a 33% increase in yield.

A unique solution to safeguard against H2S

PondDtox® is a premium microbial solution that can both prevent and remedy H2S problems in ponds.
H2S is toxic metabolite that's very common in aquaculture ponds. It's formed when aerobic bacteria break down excess feed and accumulated organic waste. That leads to the depletion of oxygen. The result is anaerobic zones where sulfate-reducing bacteria thrive. These create a buildup of H2S.
This product contains microbials. While microbial products are safe to use in consumer applications, they must be handled correctly in production environments to ensure that workers do not inhale organic dust and bioaerosols.
Please follow the precautionary handling recommendations below:
Avoid breathing dust/fume/gas/mist/vapors/spray
Avoid contact with eyes, skin, or clothing
In case of inadequate ventilation wear respiratory protection
IF INHALED: Remove person to fresh air and keep comfortable for breathing
Store in a dry place. Store in a closed container
Dispose of contents/containers in accordance with local regulations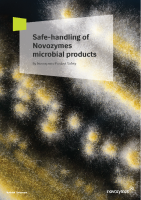 For more safety information, please download the manual for Safe-handling of microbial products.
A visible problem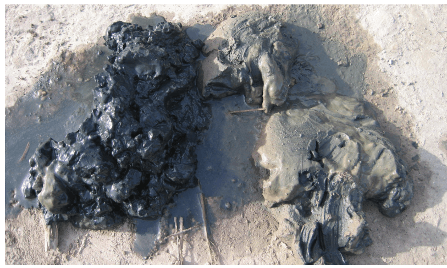 A visible problem
Black bottom sludge is a key indicator of a pond with H2S problems. On the left is a bottom soil sample from a pond impacted by hydrogen sulfide. Note the black color.

On the right is a sample from a healthy pond. Note the normal soil color.
Contact