Fast ethanol production

With Cellerity® 1.0 you get fast ethanol production with high yield at low yeast pitch.

Rapid xylose conversion

Cellerity® 1.0 can rapidly metabolize xylose. The result is low residual sugars and higher yields.

Flexibility in nitrogen sources

Cellerity® 1.0 can use nitrogen from a range of sources. That means you can generally use the most cost-effective and/or widely available nitrogen source.

Broad robustness

Cellerity® 1.0 can tolerate high levels of inhibitors as well as wide temperature and pH variations.

Lower CAPEX

Separate processing of C5 and C6 sugar streams means higher CAPEX for your plant. With Cellerity® 1.0 you can co-process C5 and C6 sugars for CAPEX savings.
Cellulosic hydrolysate typically contains high levels of inhibitory compounds. Cellerity® 1.0 has been selectively bred to tolerate these levels. That means that you can co-process C5 and C6 sugar streams. With Cellerity® 1.0 you can speed up ethanol production and boost yields at low yeast pitch. Cellerity® 1.0 is available in cryovials (Cellerity® V 1.0) for propagation in your plant or as a ready-to-use, activated dried yeast (Cellerity® S 1.0).
This product contains microbials. While microbial products are safe to use in consumer applications, they must be handled correctly in production environments to ensure that workers do not inhale organic dust and bioaerosols.
Please follow the precautionary handling recommendations below:
Avoid breathing dust/fume/gas/mist/vapors/spray
Avoid contact with eyes, skin, or clothing
In case of inadequate ventilation wear respiratory protection
IF INHALED: Remove person to fresh air and keep comfortable for breathing
Store in a dry place. Store in a closed container
Dispose of contents/containers in accordance with local regulations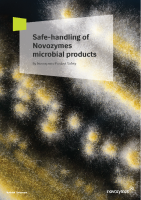 For more safety information, please download the manual for Safe-handling of microbial products.
Contact