Increase ethanol yield 2% vs. the industry's leading yeast*

Operating in a wide variety of fermentation times, Innova® Element excels in fermentations >54 hours and is a drop-in solution capable of converting the most sugar to ethanol versus all other GM yeasts. *Innova® Force

Power through compounding fermentation challenges caused by high temperatures and organic acid excursions without sacrificing yield

Gain peace of mind knowing Innova® Element can handle temperature excursions, up to 36⁰C/98⁰F, and 0.6% lactic acid, reducing variability and process upsets.

Expand throughput by fermenting high dry solids

Developed to withstand the rigor of heavy-duty, hard-running plants, Innova® Element can ferment up to 36% dry solids while tolerating high ethanol titers >15% w/v in fermentation.

Improve DDGS quality with lower glycerol

Rebalancing yeast energy, Innova® Element reduces glycerol production by up to 20%, contributing to ethanol increases and improving DDGS quality.

May reduce your need for yeast nutritional supplements

While many yeast use urea and yeast food to support fermentation, Innova® Element may significantly reduce the need for urea and eliminate the need for yeast food.
Innova® Element is a genetically modified yeast designed for fermentation processes between 54 and 65 hours. It delivers industry-leading yields and robustness so you can confidently run your plant. Innova® Element produces a high-quality GA with advanced de-branching activity and a fungal alpha-amylase to deliver the lowest residual starch.
This product contains microbials. While microbial products are safe to use in consumer applications, they must be handled correctly in production environments to ensure that workers do not inhale organic dust and bioaerosols.
Please follow the precautionary handling recommendations below:
Avoid breathing dust/fume/gas/mist/vapors/spray
Avoid contact with eyes, skin, or clothing
In case of inadequate ventilation wear respiratory protection
IF INHALED: Remove person to fresh air and keep comfortable for breathing
Store in a dry place. Store in a closed container
Dispose of contents/containers in accordance with local regulations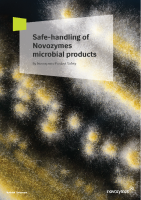 For more safety information, please download the manual for Safe-handling of microbial products.
Which product is right for you?
Find the right solution for you in our global portfolio, shown below. To find out more about products available in your region, get in touch with your local Novozymes representative.
++++ equals highest benefit
Ferments at high dry solids
High-temperature tolerance
High organic acid tolerance
Reduces need for additional yeast nutrients
Maximizes starch conversion to improve ethanol yield
Optimal fermentation time
Contact