Ferments at high dry solids

Innova® yeasts are capable of fermenting up to 38% solids. That allows you to significantly increase the efficiency and expansion of your production.

High-temperature tolerance

We specifically developed Innova® yeasts to thrive at temperature excursions above 100°F. By using them, you'll diminish downtime, and cut cooling costs. Innova® yeasts will increase your plant's efficiency and output in any season.

High organic acid tolerance

Innova® yeasts are tolerant to acid levels up to 0.8%, which means you can finish fermentations as bacterial infections occur.

Reduces need for additional yeast nutrients

Innova® yeasts are bred to be robust and have high performance without the need for additional yeast nutrients.

Expresses enzymes

Innova® yeasts express enzymes that have greater debranching and starch degrading activities. The result is a greater conversion for your plant.

Maximizes starch conversion to improve ethanol yield

Innova® yeasts deliver consistent performance during challenging process conditions. They also express advanced enzymes for greatest starch conversion and improved ethanol yields.

Optimal fermentation time

Innova® yeasts are uniquely designed to work in targeted process conditions. That gives you the flexibility to choose a yeast best suited to your operation.
Innova® Force is a genetically modified yeast designed for mid to long fermentations. It expresses multiple enzymes for the greatest debranching and starch conversion. Innova® Force is the most reliable yeast on the market. It can handle multiple production stressors to help maintain consistency in your operation.
This product contains microbials. While microbial products are safe to use in consumer applications, they must be handled correctly in production environments to ensure that workers do not inhale organic dust and bioaerosols.
Please follow the precautionary handling recommendations below:
Avoid breathing dust/fume/gas/mist/vapors/spray
Avoid contact with eyes, skin, or clothing
In case of inadequate ventilation wear respiratory protection
IF INHALED: Remove person to fresh air and keep comfortable for breathing
Store in a dry place. Store in a closed container
Dispose of contents/containers in accordance with local regulations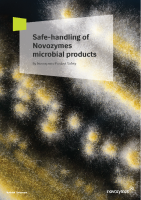 For more safety information, please download the manual for Safe-handling of microbial products.
Which product is right for you?
Find the right solution for you in our global portfolio, shown below. To find out more about products available in your region, get in touch with your local Novozymes representative.
++++ equals highest benefit
Ferments at high dry solids
High-temperature tolerance
High organic acid tolerance
Reduces need for additional yeast nutrients
Maximizes starch conversion to improve ethanol yield
Optimal fermentation time
Contact