Brewing with flaked and rolled ingredients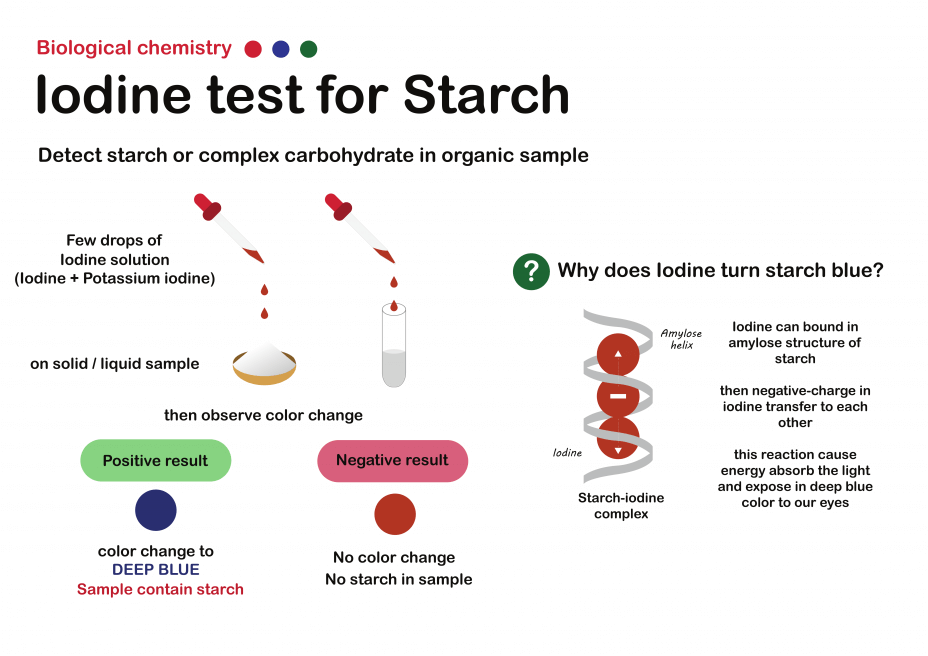 Brewing with flaked and rolled ingredients
It is no secret that barley is the main staple of beer, but do you know why? Barley offers a wonderful compromise between hydrolysis of starch and enzymatic activity. Both are required to get a fermentable wort composition, but not all ingredients are created equal. If you want to incorporate large quantities of brewing adjuncts, it is important to understand balance. Barley offers affordability in process, since hydrolysis takes place at a low enough temperature for starch-converting enzymes to remain active.
A traditional idoine starch test shows the presence of unconverted starch in the mash. Without enough enzymatic activity, starch will not be converted to fermentable sugar.
What do you do when you want to brew with alternative ingredients? Follow along as we decipher brewing with flaked or rolled ingredients!
Unconventional starch sources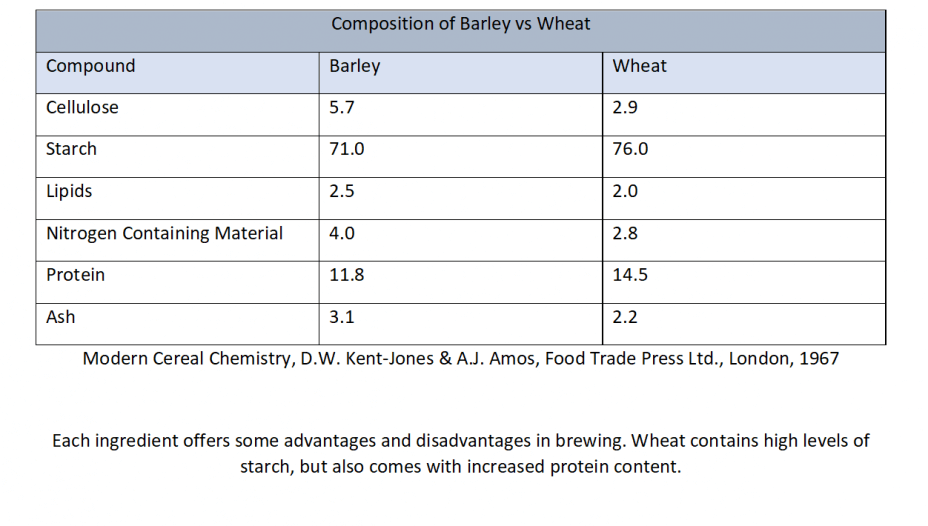 Unconventional starch sources
Brewing with rice, corn, wheat, oats, un-malted barley, and unconventional starch sources has become increasingly common in the past few years. What was once an accent tool has become the workhorse, with some brewers using in excess of 30% adjuncts. Unfortunately, many craft breweries are not properly equipped to make efficient use of alternative starch sources, and a need for cereal cooking has many brewers turning to flaked or rolled options.

The idea behind flaked and rolled ingredients is to avoid the gelatinization step at the brewery. Raw material is (typically) steamed to beyond the gelatinization point of the grain, exposing the starch granules by bursting them. Since this is the main purpose of cereal cooking, a brewer can avoid time, labor, and energy costs by using flaked or rolled ingredients. These ingredients are not malted, so there are (virtually) no enzymes synthesized, and they have no diastatic power.
Flaking for brewing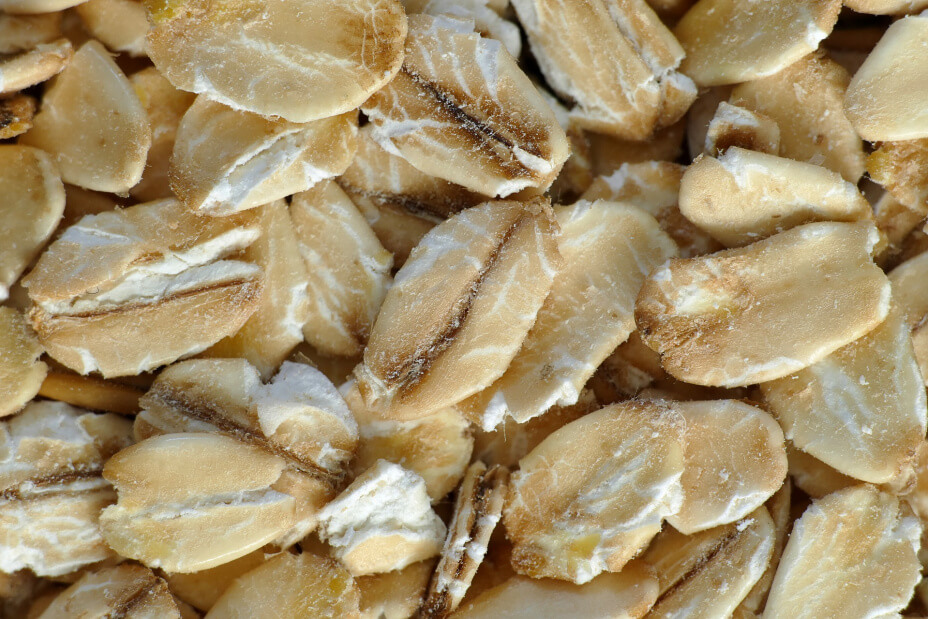 Here we see oats that have been expanded by heat and then crushed by heavy rollers. The starch can be seen between cracks of the bran layer.
While torrefied wheat is an exception, most pre-gelatinized grains will be rolled between heavy rollers to "flake" the grain, a process perfected in 1894 by the Kellog brothers. Crushing the outer layer, or "bran", of the cereal grain, exposes the starch granules in much the same way as milling, therefore, rolled or flaked ingredients do not need to be milled prior to mashing. On the other hand, torrefied wheat has been steamed until "popped", but has not been rolled or flaked. The starch has been irreversibly affected by the gelatinization process, however the bran layer is intact, preventing easy access for enzymes. Torrefied wheat needs to be milled prior to mashing to break apart the bran layer and expose the pre-gelatinized starch.
Impact of raw material reprocessing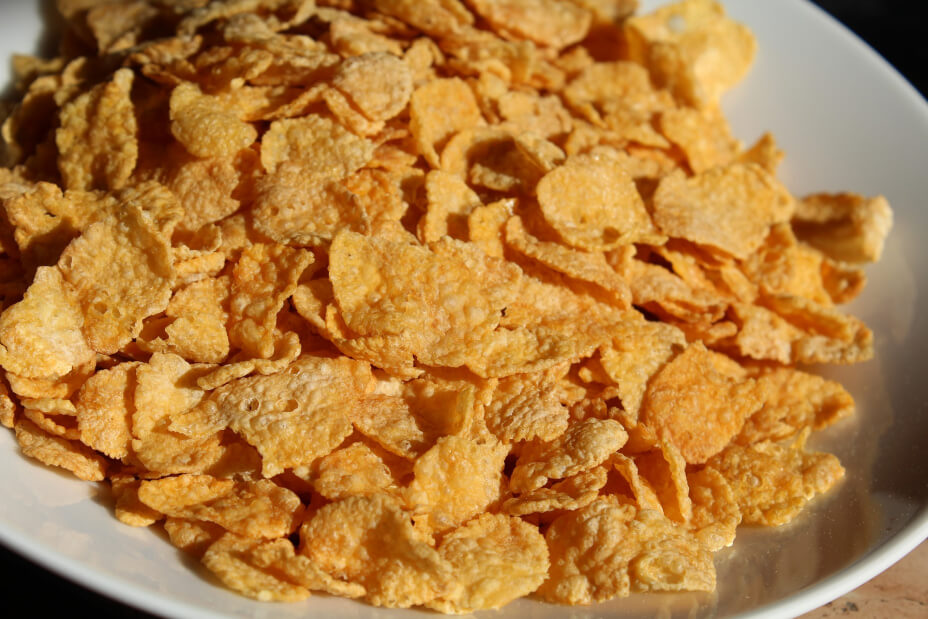 Impact of raw material reprocessing
The process used by Kellog to make corn flakes cereal has enabled brewers to take advantage of alternative starch sources, without the need for cereal cooking.
How your raw material is processed can have a large impact on the labor costs, efficiency, and quality of your products. Starting with a finer milling exposes more starch for hydrolysis and saccharification, however it can present problems with logistical extraction. Since the particle size of ingredients is smaller with finer milling, this will restrict permeability of wort through the lauter bed. Without increasing porosity, or decreasing viscosity significantly, you are likely to see elongated lautering times and decreased efficiencies. Stuck mashes are every brewers worst nightmare, so how do you avoid it?
Avoiding lautering problems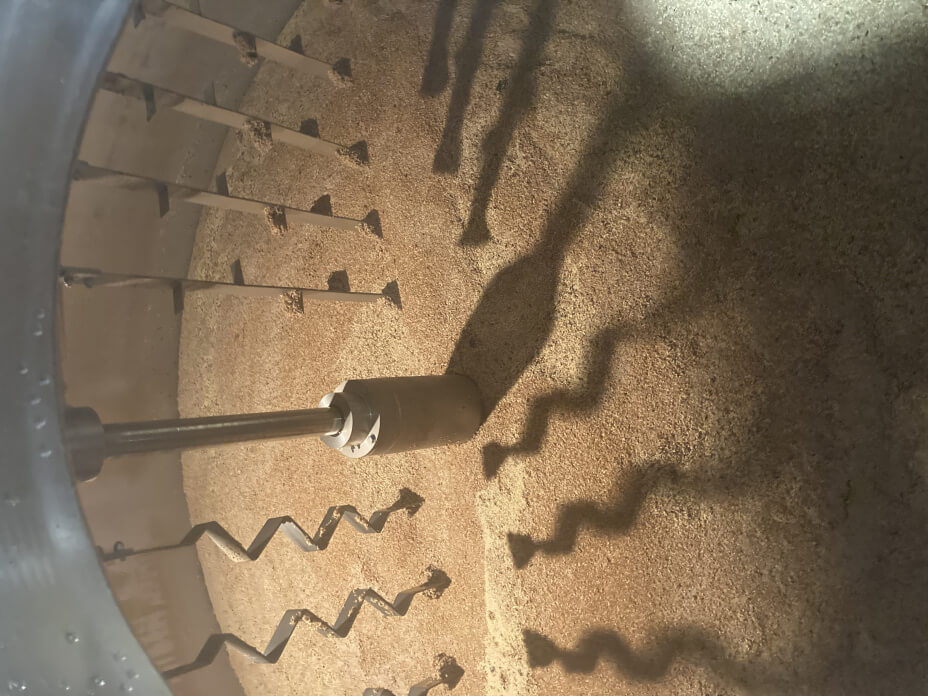 Avoiding lautering problems
A common solution to lautering concerns is to add empty rice hulls into the mash. This extra husk material decompresses the lauter bed by creating more porosity. Increasing the porosity will allow wort to pass through without compacting the lauter bed and "blinding" the lauter screen. This is what we prefer as brewers, a smooth and fast collection of first runnings, followed by a steady hot rinse, aka sparge.
Larger vessels may incorporate rakes to aid in lautering. Raking the lauter bed can increase porosity and improve extraction, however too much agitation can lead to fine particulate, hindering efficiency.
Using a coarse mill setting is another option to increase permeability and prevent lautering problems, however conversion efficiency may suffer. If starch granules are not exposed to hot water, they will not hydrolyze and be exposed to enzymatic activity. This can be particularly concerning since unconverted starch will not ferment, causing lower attenuation and impacting colloidal stability.

The heating and hydrolyzation of non-barley grain almost always requires temperature above the active range of starch-converting enzymes. This means that rolled or flaked ingredients have virtually no enzymatic power, and must be accompanied to create a fermentable wort composition. Previously, the only viable option was to combine adjuncts with barley-based mashes in order to provide the enzymatic activity. Even then, care must be taken with percentages, temperatures, and hydration ratios. If too little enzymatic activity is present, conversion can take extended periods, or may not happen at all.
Why would you want to include gelatinized ingredients without enzymatic activity? With the gelatinization done, high molecular weight proteins and lipids can be solubilized into the wort, increasing mouthfeel and foam stability. The non-enzymatic properties can increase attenuation limit and influence haze formation, in some circumstances. Depending on the process, these attributes can be compromised when malting.
Using enzymes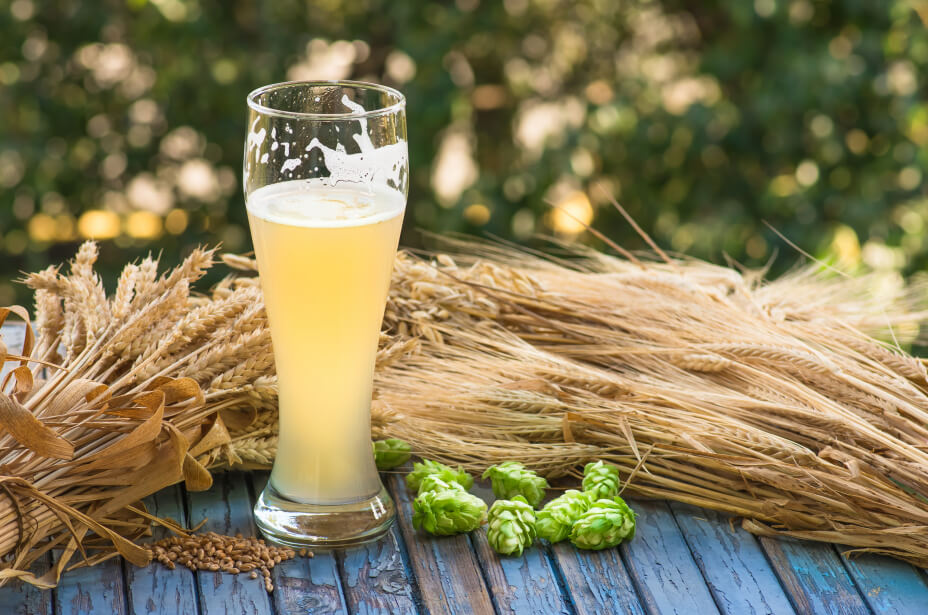 Hefeweizen is one style known for an appreciable haze. The extra protein content of wheat contributes to a stable haze formation long after yeast cells have flocculated.
Fortunately, the modern brewer has access to supplemental enzymes that can aid in processing of both flaked/rolled ingredients, as well as raw un-malted, un-gelatinized, options. With ease, liquid enzymes can be added to the mashing process to aid in gelatinization and conversion of starch, regardless of the source or quantity. Incorporating these enzymes can allow a brewer to remove the diastatic power needed from the recipe equation, allowing brewing "outside the box". If you want to brew with up to 100% alternative ingredients, there is no better time than now.

Remember, when brewing with more than 25% adjuncts, supplemental enzyme additions may be required to achieve success. Reach out to fellow colleagues or enzyme suppliers for more information on increasing efficiency in adjunct heavy mashes!

Enzymes for flaked and rolled ingredients
Contact