Feedstock Flexibility for Biodiesel
Feedstock Flexibility for Biodiesel
Meet enzymes, the catalysts that currently enable thirty biodiesel plants around the world to process a wide variety of waste feedstocks, providing them with the feedstock flexibility they need to remain profitable. Learn more about enzymes and their role in the biodiesel industry in our detailed eBook and find your own path to feedstock flexibility.
Embrace turmoil and benefit from feedstock flexibility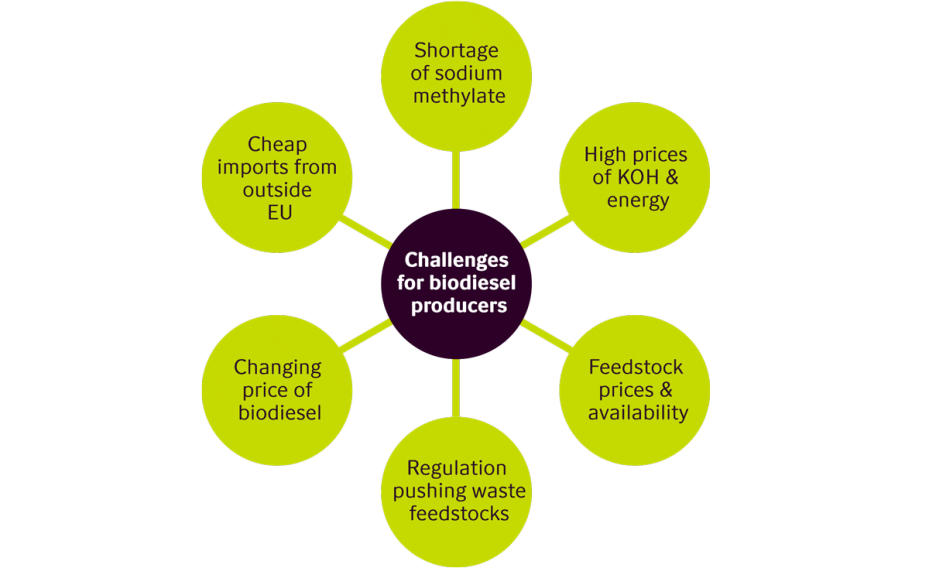 Embrace turmoil and benefit from feedstock flexibility
As the world shifts toward low-carbon fuels, biodiesel is expected to be in high demand. But the EU biodiesel market is no stranger to turmoil. Sudden rises in energy costs, the global pandemic, and growing competition have created a challenging environment for biodiesel producers in which achieving profitability has become increasingly difficult.
Thirty biodiesel producers worldwide have already committed to using enzyme catalysts to efficiently process waste feedstocks. Take your first step toward feedstock flexibility and learn more about how to achieve consistency and profitability. Follow our six-step guide to evaluate your opportunities in biodiesel.
"A gamechanger for profitability"
Over the past five years, thirty biodiesel producers have already implemented biological processing. With operations in Europe, North and South America, India, South-East Asia, China, and Africa, these plants are processing side streams and main streams of up to 100% FFA.

The Novozymes process is a game changer for the profitability of our plant. We are now able to convert low-value feedstocks with high acidity to biodiesel that meet the EN biofuels Standards in Europe. The process requires limited capital expenditure and we were able to implement it by ourselves by retro-fitting an existing facility.
Ismaeil Zaher, Technical Director, Biodiesel Misr, Egypt

Our biggest challenge was to handle the high FFA of our feedstocks and the wastewater associated with traditional technologies. Working with Novozymes we are now able to provide our customers with high-quality, sustainable raw materials without having an environmental impact on the local community.
Rafael Lavin, CEO, Oleofat, Spain

Novozymes' process is a cost-efficient and proven alternative for converting secondary oils like fatty acid distillates, DGS corn oil, UCO and animal fats into biodiesel with relatively low capital expenditure by retrofitting a plant.
Marc Kellens, Group Director of Technology, Desmet Ballestra, France

Feedstock flexibility is key… but at what cost?
To address these challenges, biodiesel producers are looking for solutions that they can control: what they process and how they process it.
They need to take advantage of fluctuating prices rather than falling victim to them. That means switching to the most economical feedstock available whenever required and keeping their production costs low.
Unfortunately, the cheapest feedstocks are high in free fatty acids (FFA), and he most convenient processing method for FFA is a chemical process called glycerolysis, which is expensive to set up and run. The payback period on glycerolysis is around five years—and most producers simply can't wait that long to achieve profitability.

FAME producers' plans for feedstock flexibility
In July 2021, Argus Media, the leading energy market research company, interviewed European biodiesel producers representing 25% of EU capacity on their outlook, challenges, and strategies for feedstock flexibility in the years ahead.
76% plan to produce biodiesel from sources like sludge oil, animal fat, and used cooking oil
60% currently have limited or zero ability to process high FFA feedstocks
30 plants already have full flexibility
Option 1:

Side stream processing
24 hours in a batch reactor tank with methanol and water at atmospheric pressure and low temperature

Produces crude FAME with 2-3% FFA and maximum 0.5% neutral oil

Biological processing of soap stock increases its value from around $100/MT as a waste product to $1,000/MT as biodiesel

Your investment is profitable after about three months
Option 2:
Main stream with any feedstock
Batch or CSTR reactor with 24 hours at atmospheric pressure and low temperature

Produces FAME with FFA below 0.1% and soap below 500 ppm

Processing all feedstocks biologically produces around 200% more profit than chemical processing

Your investment is profitable after around twelve months
Efficiently process your feedstock with FlexFit® technology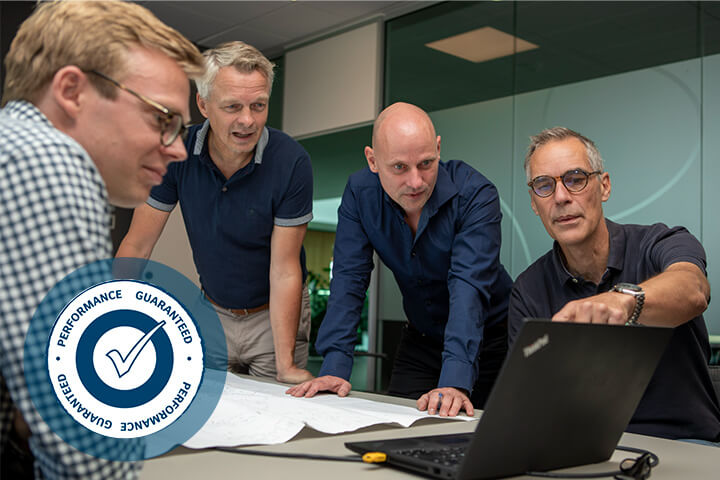 Efficiently process your feedstock with FlexFit® technology
Novozymes FlexFit® simplifies, accelerates, and protects your path to waste-based, FAME biodiesel. This high-quality, innovative technology supports your project from concept to completion and continuous operation. FlexFit® is the superior choice for waste-based biodiesel with quicker time to market, lower cost to build, and optimized operating cost.
Learn more on how FlexFit® can give your plant the feedstock flexibility that the future requires.
Novozymes: partner to the biodiesel industry
Novozymes: partner to the biodiesel industry
Today, more than thirty biodiesel plants around the world use enzymes to process a broad range of waste-based feedstocks including used cooking oil, palm oil mill effluent (POME), fatty acid distillates, and brown grease.
As a member of the European Waste-based & Advanced Biofuels Association (EWABA), Novozymes supports the science-based development of transport policy that evaluates technologies and energy sources with full life cycle assessment.
We were also present at EWABA's general assembly in Brussels in November 2022.
Get the profitability you want in 365 days
As early as next quarter, you could be producing highly-profitable biodiesel from high FFA feedstocks and enjoying the freedom to buy and use the cheapest available feedstock whenever you like - without stopping production.
If you're interested in turning your profit potential into profit reality, get in touch with us today.
We can help you by:
Validating your business case
Sharing technical information and case studies
Providing you with your own implementation plan
Explaining our enzyme performance guarantee
Contact