Save up to 9 € per ton on fibers in your paper mill
Save up to 9 € per ton on fibers in your paper mill
With Novozymes FiberCare® you can unlock the natural strength of your paper, enabling you to substitute expensive fibers with less expensive ones. This way, your production costs are reduced.
Calculate how much you can save on fiber costs
Try the calculator to identify how much your mill could potentially save on fiber costs. Please input the types of fibers used (as a minimum of two types), their cost per ton, and their percentage of final furnish.
Selected fibers and furnish split
Types of fibers
Cost per fiber type (€/ton)
% of final furnish
Your Potential Cost Savings
By substituting 5% of your with a less expensive fiber type with FiberCare.
Save up to
In gross cost savings per ton of finished product
The actual number of savings depends on the application that is most relevant in your paper mill. In order to get a more detailed understanding of relevant application and savings in your mill, please connect with our experienced pulp and paper technical specialist.


Challenges
Challenges
Today, papermakers are challenged in various ways.
Declining demand for printing and writing paper
Volatile and increasing fiber prices
Supply chain issues challenging steady feedstock flow
Rising energy prices
Novozymes FiberCare® lets you cut the cost of high-priced fibers through fiber substitution. The result is a more cost-effective production, proofed for today's challenges as well as for the future.
Additional routes to fiber savings
FiberCare® also allows you to save in material costs in other ways, for example through increasing the total filler content of your paper or through reducing basis weight with the same final strength properties.
More filler, less fiber
Fiber savings can also be achieved by replacing fibers with filler, as illustrated in this example.
Paper production with 20% filler
A substiution target of 1% fiber with filler
Assumed fiber and filler price delta 600 €/ton
Total value created: 6 €/ton in production savings.
Light-weighting
With light-weighting, you reduce the overall fiber in your final products, while maintaining end-product specifications, as illustrated here.
80 gsm paper with 20% filler
A target of basis-weight reduction of 1 gsm
Assumed furnish price 750 €/ton
Total value created: 9 €/ton in production savings.
What you get with FiberCare®
As well as allowing you to save on expensive Fibers, with FiberCare your paper business can benefit from enhanced productivity as well as reduce your need for energy and decrease the rising energy costs.
Fiber savings
Improves the bonding and strengthening potential of fiber, allowing you to replace costly fibers with less expensive ones.
Energy savings
Enhances fiber's response to refining and reduces the energy needed to meet strength specifications in production output.
Improve fiber properties with minimal operational adjustment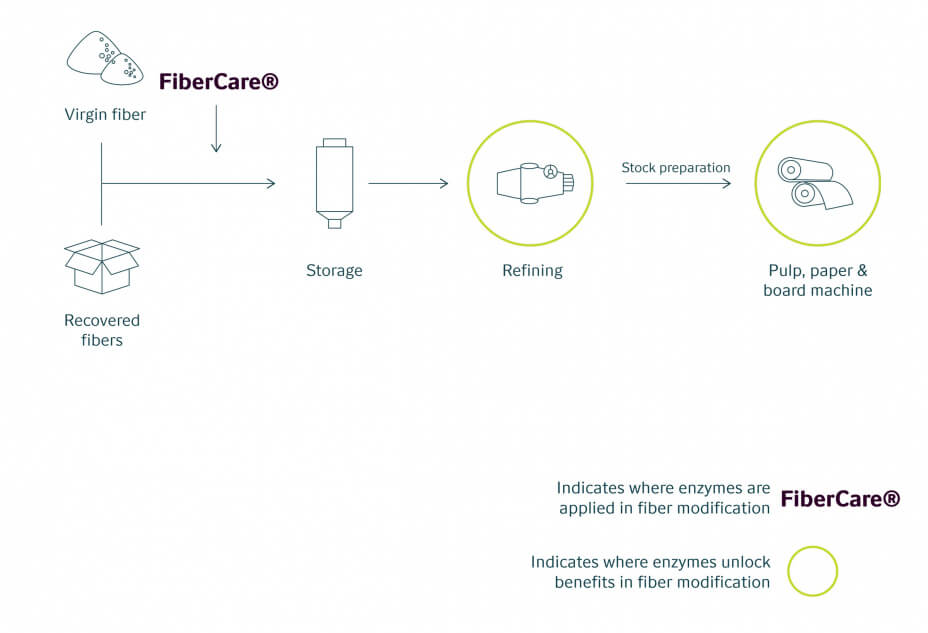 Contact