Welcome to a
new world of
clean
Novozymes Pristine® is a ground-breaking technology that liberates trapped body grime from laundry and offers a new baseline of cleaning.
Enzymes for a greener and safer cleaning performance
Enzymes for a greener and safer cleaning performance
Consumers demand full product transparency and sustainably-made products with green and safe ingredients and responsible packaging. All this while retaining superior quality and performance.
With Novozymes, you can do this AND set new standards in the detergent industry.

The industry is evolving
What is the recipe for winning over the growing segment of green consumes?
Regulations fuel the development of sustainable and safe detergents
Regulators and governing bodies are setting new official standards for both consumer products and the raw material that go into the products. Both environmental and health/safety legislations are pushing the industry towards a higher degree of transparency.
Two legislations that affect current and future detergent product labelling:
All preservative must be declared on detergent labels from 0% and several are under further investigation for hazardous effect

From October 2021 fine powder titanium dioxide, TiO2 is classified as carcinogenic in EU. A new labelling requirement applies for all granulates containing > 1% TiO2.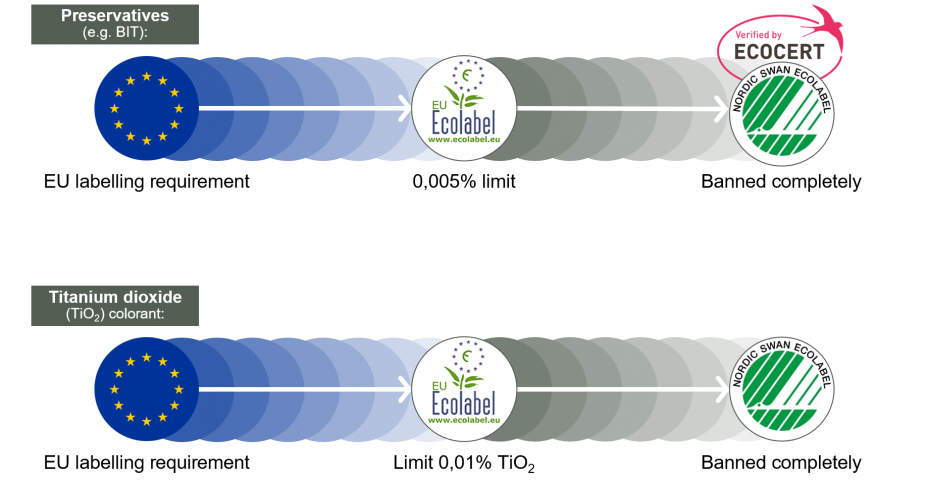 Ecolabels often push beyond legislation to drive consumer behaviour
Certification organizations often increase requirements for consumer products and therefore directly raw materials - and often push beyond what regulators have set of limitations. This helps assure consumers that labelled products are the best when it comes to safety and sustainability.
For the preservative free requirements on detergent formulations, EU regulation has a general labelling requirement. However, EU Flower are setting a limit for preservatives to obtain the certification of 0,005%. Moreover, we see that both Nordic Swan and EcoCert are banning preservatives all together.
In line with ecolabels, we also see some consumer test magazines punishing products in evaluations, if they contain preservatives less sustainable or sensitive ingredients. Equal with the preservative regulation, Ecolabel in the EU are also setting lower limits or completely banning TiO2 from the formulation with the October 21 regulation.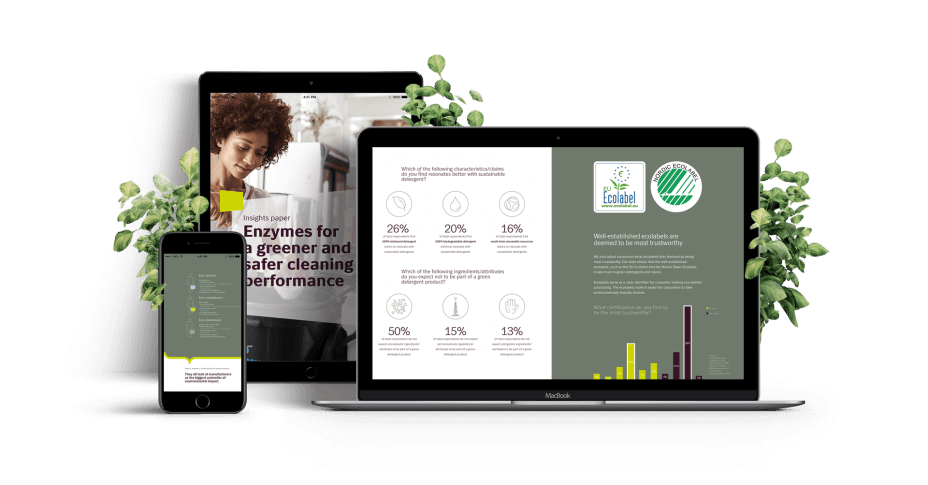 Consumers are increasingly gaining environmental consciousness
Another big driver of the green transition is the change in consumer eco-consciousness. Today 67% of consumers identify with being environmentally aware, which means they have a general awareness of how their behavior and actions affect the environment.
A large consumer segment is at the tipping point of converting to greener products. To understand this growing consumer segment, we have conducted and analyzed several consumer surveys. We see that different consumer segments 'convert' at different times as they are motivated by different drivers. Green & safe detergents must be trustworthy, they must perform, they must be priced reasonably, and they must be available in general supermarkets.
Read our new consumer insights study.

Full enzyme portfolio for EcoCert certified detergents
For green and free-from products, Novozymes offers a full product portfolio for both liquid and powder detergents. Our liquid products are preservative-free and our powders are TiO2-free.
Our enzymes are raw materials verified by ECOCERT GREENLIFE and conform to the Ecodetergents standard.
This full enzyme product range is designed to deliver the same high performance, quality and stability with only minor changes in color. Powered only by necessary ingredients.

Contact