Welcome to a
new world of
clean
Novozymes Pristine® is a ground-breaking technology that liberates trapped body grime from laundry and offers a new baseline of cleaning.
Liquid concentrate, Liquid
Microvia™ Pro
Biologically active ingredient to supplement consumer hard surface cleaning products. Formulated to help remove common organic soils found in homes.
Microbial cleaners use beneficial microbes to take hard-surface cleaning a step beyond surface-level soil removal. These microorganisms help degrade and remove organic soils that ordinary cleaners or products might miss – and they keep doing so long after the initial application.
Microvia™ Pro is a spore concentrate used as an additional active ingredient for consumer hard-surface cleaning products. These microbes enable enhanced cleaning and bring additional benefits to support new consumer-relevant claims.
Natural cleaning

Replaces harsh cleaning chemistry with natural ingredients and biology.

Deep, long-lasting clean

Works microscopically where traditional cleaners may not be able to act. Continues cleaning surfaces after you are done cleaning/wiping.

Active beyond the bottle

Microvia™ Pro is formulated to be chemistry-compatible, which enables optimized stability and activity in application — not just in the bottle.

Establishing a community of beneficial microbes

Fosters microbiome diversity and populates hard surfaces with hard-working microbes.

Compatible with cleaning chemistry

Compatible/customizable with fragrance

Demonstrated activity on hard surfaces

Produces enzymes for breakdown and removal of organic soils
This product contains microbials. While microbial products are safe to use in consumer applications, they must be handled correctly in production environments to ensure that workers do not inhale organic dust and bioaerosols.
Please follow the precautionary handling recommendations below:
Avoid breathing dust/fume/gas/mist/vapors/spray
Avoid contact with eyes, skin, or clothing
In case of inadequate ventilation wear respiratory protection
IF INHALED: Remove person to fresh air and keep comfortable for breathing
Store in a dry place. Store in a closed container
Dispose of contents/containers in accordance with local regulations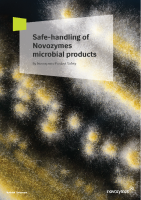 For more safety information, please download the manual for Safe-handling of microbial products.
Which solution is right for you?
Find the right solution for your business in our microbial cleaning portfolio, shown below.
Compatible with cleaning chemistry
No
Compatible/customizable with fragrance
Yes
Demonstrated activity on hard surfaces
Yes
Produces enzymes for breakdown and removal of organic soils
Yes
Compatible with cleaning chemistry
Yes
Compatible/customizable with fragrance
Yes
Demonstrated activity on hard surfaces
Yes
Produces enzymes for breakdown and removal of organic soils
Yes
Compatible with cleaning chemistry
Compatible/customizable with fragrance
Demonstrated activity on hard surfaces
Produces enzymes for breakdown and removal of organic soils
Contact