Enhances nitrogen fixation potential

This product improves nodulation for enhanced nitrogen fixation potential. Successful development of nitrogen-fixing nodules is key to the development and yield potential of your crops.

Improves yield potential

This product can improve the yield potential of your crops by enhancing overall plant health and stress mitigation. It does this by increasing the availability of nutrients to plant roots.

Increases nutrient availability to encourage vigorous root growth and shoot development

This product encourages root growth and shoot development, which are important components of better crop health. It does this by increasing nutrient availabilty and uptake by the plant.

Supports early vigor

This product gets your crops off to a better start by providing key nutrients. This contributes to improved yield potential.
Active ingredients: 2 x 109 viable cfu/ml [2 x 109 viable cfu/g] Rhizobium leguminosarum.
Application rate: 75 mL of Cell-Tech treats 27 kg (60 lb) of seeds.
This product contains microbials. While microbial products are safe to use in consumer applications, they must be handled correctly in production environments to ensure that workers do not inhale organic dust and bioaerosols.
Please follow the precautionary handling recommendations below:
Avoid breathing dust/fume/gas/mist/vapors/spray
Avoid contact with eyes, skin, or clothing
In case of inadequate ventilation wear respiratory protection
IF INHALED: Remove person to fresh air and keep comfortable for breathing
Store in a dry place. Store in a closed container
Dispose of contents/containers in accordance with local regulations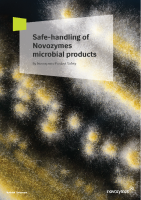 For more safety information, please download the manual for Safe-handling of microbial products.
Which product is right for you?
Find the right solution by exploring our portfolio, shown below. If you'd like more information, your local Novozymes representative is ready to help, so please get in touch.
Enhances N, P and K availability and plants' utilization of key nutrients
Enhances the efficiency of soil and fertilizer P use
Enhances nitrogen fixation potential
Increases nutrient availability to encourage vigorous root growth and shoot development
Improves stress tolerance
Increases mycorrhizal associations
Seed treatment (Time on seed)
Enhances N, P and K availability and plants' utilization of key nutrients
Enhances the efficiency of soil and fertilizer P use
Enhances nitrogen fixation potential
Increases nutrient availability to encourage vigorous root growth and shoot development
Improves stress tolerance
Increases mycorrhizal associations
Seed treatment (Time on seed)
Contact