Multi-microbe blend, Powder
BioRemove™ Phenol
The microorganisms in BioRemove™ Phenol can tolerate high concentrations of phenols. That means it's highly effective at degrading phenols, cresols and other aromatic hydrocarbons. These include catechol and cumene. The result is better effluent quality, simpler operations and improved plant stability.
Target industries: Refining & Petrochemical
Phenol can cause serious problems in your wastewater treatment process. In high enough concentrations, they lead to toxicity and floc disruption. As a result, treatment becomes less efficient, settling worsens, and your plant could be at risk of permit violations. The microorganisms in BioRemove™ Phenol are highly effective at degrading phenolic compounds. They're also robust enough to withstand toxic events. The result is higher quality effluent and less risk of the problems associated with high phenol concentrations.
Effectively degrades hard COD
High levels of recalcitrant organics can be difficult to remove and increase COD. That leads to a range of problems for your plant. This product effectively degrades hard COD to improve your plant's effluent quality.
Removes surfactants
Surfactant-related upsets impact your plants stability. This product helps protect your system from this instability and simplify operations. It can also help you reduce permit violations and surcharges for surfactants.
Removes hydrocarbon
At high concentrations, hydrocarbons like alkanes and aromatic compounds cause a range of problems in your plant. These include settling problems, biomass toxicity and effluent toxicity. By degrading hydrocarbons, this product helps your plant avoid such problems.
Removes phenol
Phenols and related aromatic hydrocarbons are common in refining and petrochemical wastewater. They're highly toxic to biological treatment systems and can significantly inhibit activity. Phenol can also cause permit violations and effluent toxicity. This product can degrade phenolic compounds to avoid these problems and give your plant a higher quality effluent.
This product contains microbials. While microbial products are safe to use in consumer applications, they must be handled correctly in production environments to ensure that workers do not inhale organic dust and bioaerosols.
Please follow the precautionary handling recommendations below:
Avoid breathing dust/fume/gas/mist/vapors/spray
Avoid contact with eyes, skin, or clothing
In case of inadequate ventilation wear respiratory protection
IF INHALED: Remove person to fresh air and keep comfortable for breathing
Store in a dry place. Store in a closed container
Dispose of contents/containers in accordance with local regulations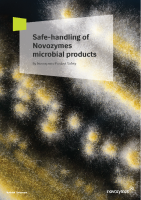 For more safety information, please download the manual for Safe-handling of microbial products.
BioRemove™ Phenol increased control to reduce filament and save USD 5,000 per day
BioRemove™ Phenol increased control to reduce filament and save USD 5,000 per day
BioRemove™ Phenol was used to meet plant goals by significantly enhancing the microbial community: Improving its phenol degradation capabilities and lowering its filamentous abundance.
Read the full case and explore how BioRemove™ Phenol can improve your plant's performance.
Which product is right for you?
Find the right solution for you in our global portfolio, shown below. To find out more about products available in your region, get in touch with your local Novozymes representative.
* ++ equals highest benefit.
Effectively degrades hard COD
Contact