Welcome to a
new world of
clean
Novozymes Pristine® is a ground-breaking technology that liberates trapped body grime from laundry and offers a new baseline of cleaning.
The 'new normal' in Automatic Dishwash performance
The Automatic Dishwash segment has seen many changes in recent years. Along with the move to phosphate-free formulations, there's been a shift in consumer expectations. Consumers want to use shorter, cooler, more convenient and climate-friendly cycles, but they are not willing to compromise on performance. Manufacturers are looking for new ways to keep up with this 'new normal'.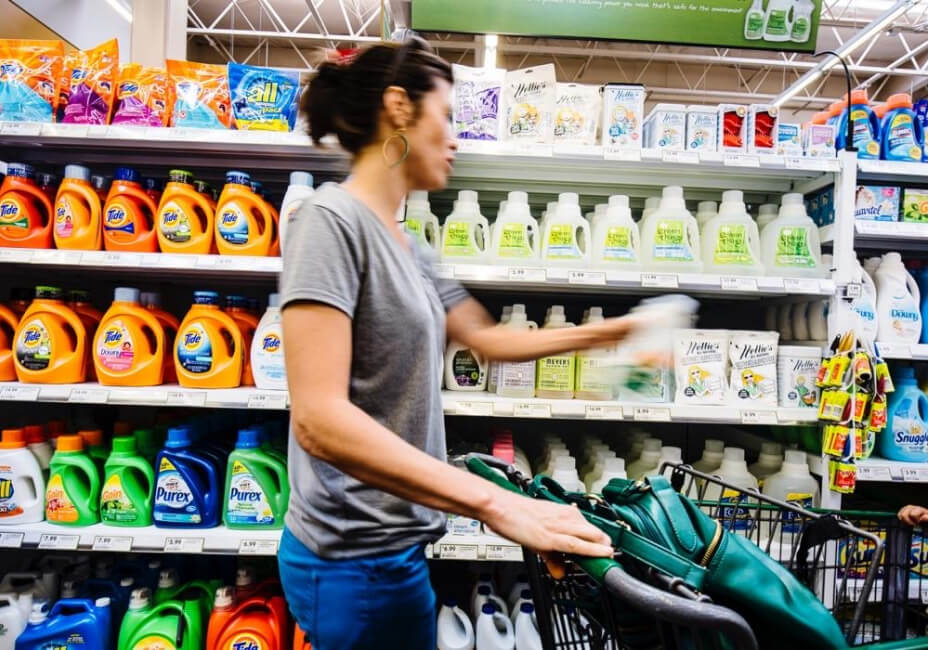 By Elena Genescà, Marketing Manager, Novozymes Household Care
May 1, 2019
In my relatively short time in the detergent industry I've seen big changes. The first and most obvious is the move to phosphate-free formulations. During the period when the industry was transitioning to phosphate-free, getting this new type of formulation right was what you needed to do to win in the market. Getting it right meant making sure phosphate-free formulations were not only as effective, but also just as cost-effective as formulations with phosphate.
Now, there's another big change affecting who wins in the detergent market. It's the growth of the new, connected consumer. Study after study has shown that these new consumers are more knowledgeable and more demanding than ever. They make informed purchases, seeking out the products that are right for them.
The new, connected consumers are more knowledgeable and demanding than ever.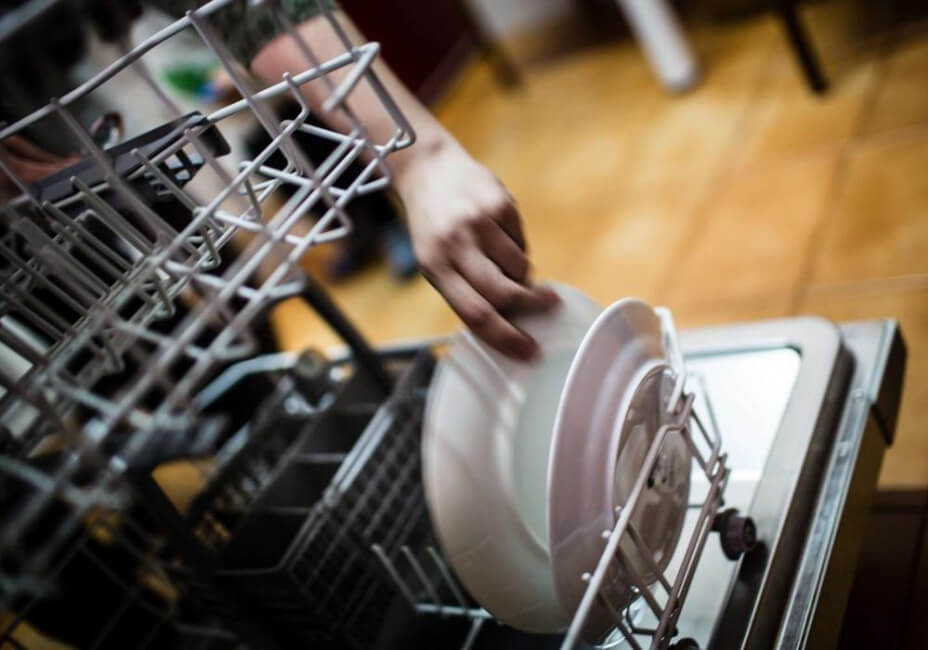 Convenience is key
For many of these consumers, the right products are the ones that offer convenience. A recent article by Nielsen pointed out that in today's hyperconnected world, convenience is the ultimate currency. For dishwashers, that translates into a demand for a wide range of programs and functions that meet consumers' varied needs. These include shorter programs and connectivity to smart devices. While smart devices are still relatively new, shorter programs are a feature on most models today.
Cool programs have also become a standard, tapping into the push for sustainability, another key consumer trend. As a result, most standard dishwashing tests have shifted their temperature range down. As an example, IKW, the German Industry association that defines test standards, now tests at 45ºC. This is 5ºC lower than their previous standard temperature. At the same time, their test soils have become even tougher, creating an even greater challenge for detergent manufacturers.
The challenge for detergent manufacturers: As test soils have become tougher, shorter, cooler programs have become standard.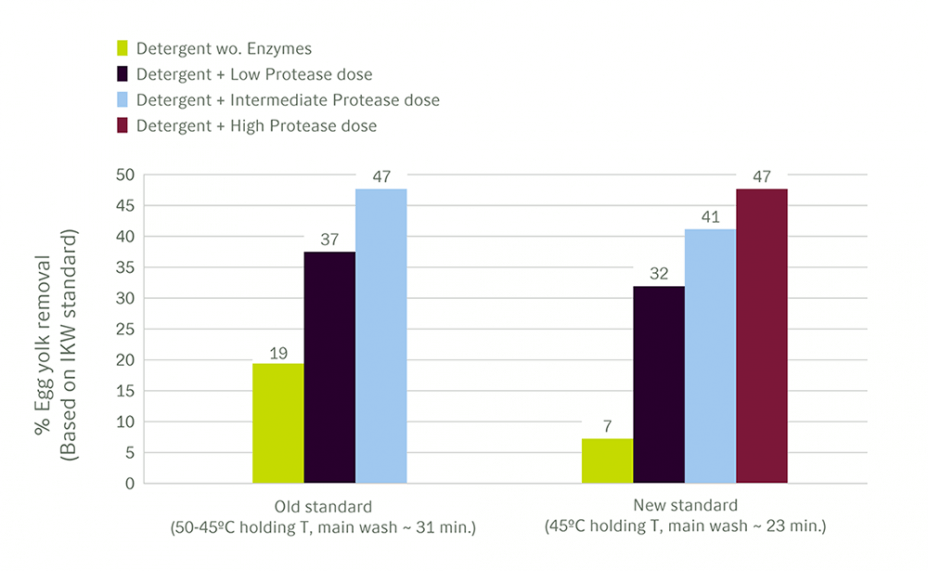 Consumer magazines adopting the new standard
Consumer magazines in France, the UK, Spain, Germany, the Netherlands and Belgium have also adopted these washing conditions as standard. Magazines in Sweden, Italy and Denmark are expected to follow the trend. The message is clear – consumers' expectations of Automatic Dishwash (ADW) detergents are ratcheting higher. They're demanding greater performance under all conditions, even with the shorter, cooler cycles and with the toughest soils. Enzymes can help detergents meet those demands.
Figure 1
A detergent with a high dose of protease enzyme (green bar) was significantly more effective in removing egg yolk from dishes, even at a lower temperature and shorter cycle. The least effective was a detergent without any enzyme (gray bar).
A constantly-rising performance bar
Germany is a front-runner in this 'new normal', so its market makes an interesting case study for manufacturers in other European markets. When phosphate-free formulations were introduced to this market, manufacturers set themselves very high standards. Their goal was to ensure their products would remain competitive. And the performance bar is rising constantly. The winner of our performance tests of German ADW detergents in 2016 had fallen to middle place by the time we retested in 2017. Other brands had already overtaken it in terms of performance, showing a clear 'new normal'.
The 'new normal' in performance is not limited to the German market. The same trend is visible in global brands available in the EU market. Our tests of these products showed a clear leap in performance between 2016 and 2017, on both protein (egg yolk) and mixed starch.
Delivering 'new normal' performance
Our internal testing is based on IKW standards. Our tests showed that to match the top-performing products on egg yolk in the German market in 2017, a detergent would need >3% protease. To match the top performers on mixed starch, a detergent would need more than 1% amylase. It's clear that enzymes can play a key role in helping manufacturers to deliver on the 'new normal' in ADW detergent performance.
Contact