Welcome to a
new world of
clean
Novozymes Pristine® is a ground-breaking technology that liberates trapped body grime from laundry and offers a new baseline of cleaning.
Innovate your hand dishwash and win!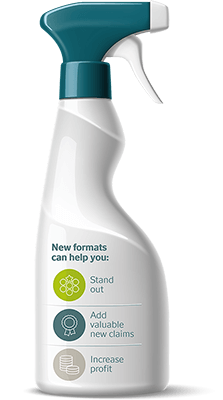 The hand dishwash category is facing more competition, less consumer-perceived differentiation and higher production costs. And as commoditization is increasing, margins are decreasing.
What to do in a price-sensitive market? Focus on what really matters: consumers.
"Products should both perform better and be more attractive to consumers," says Morten Risgaard Larsen, Senior Global Marketing Manager of dishwashing solutions at Novozymes. "They should be more effective, more convenient and feature claims that really resonate. And, of course, they should be profitable."
Enter the dish spray.
Dish spray: a gamechanger
Many of the big players have already introduced the spray format in markets ranging from Asia to North America. Based on their success, other players are starting to follow.
"Consumers appreciate the new format and are willing to pay extra," Risgaard Larsen says. In fact, he explains, when Novozymes conducted a global study of 6,252 consumers, 52% indicated willingness to pay 10-20% extra for the benefit of less effort – a figure he finds conservative, he says, given market observations.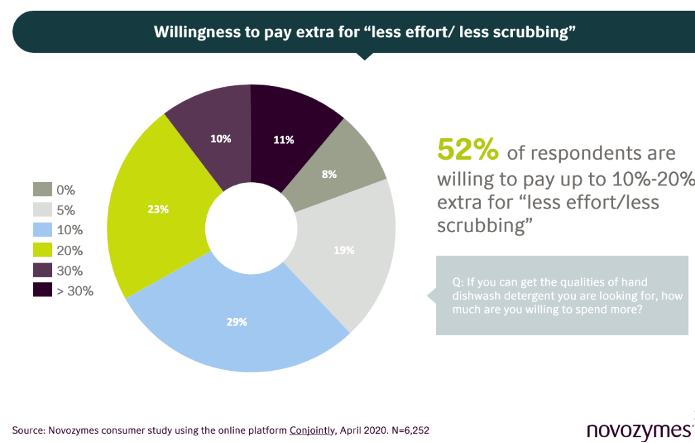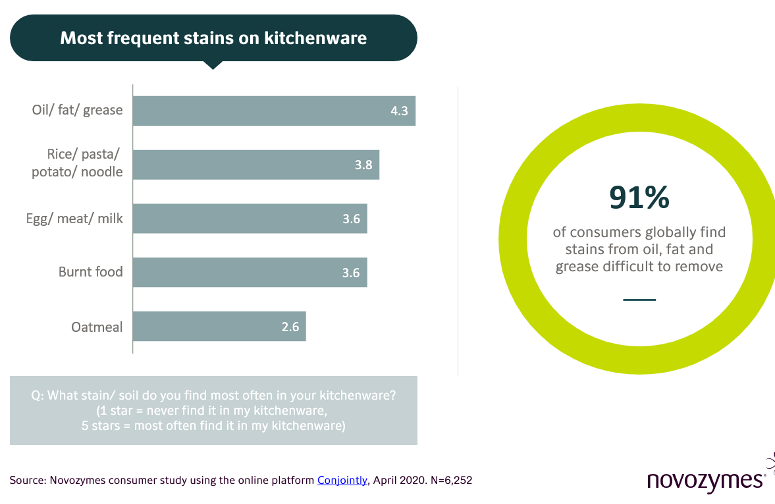 Spray format drives premiumization and increases profit margins ​
One big player, for example, raised the price per ml of its dish spray by 186% compared to the brand's hand dishwash liquid. Another brand commands 133% more per ml, while a third "only" charges 41% more.
"Consumers are willing to pay extra for the new format since they're looking for ways to decrease the burden of doing dishes. They want the job done quickly and effectively, without a lot of effort or scrubbing," Risgaard Larsen says.
The Novozymes study backs up his assertion, as 59% of the 6,252 consumer participants considered "saves effort and scrubbing" an important quality in hand dishwash.
Grease-fighting sprays enable new opportunities​
According to Novozymes research, 91% of consumers globally find stains/soils from oil, fat and grease difficult to remove from kitchenware.
Consumers also report that oil/fat/grease are the stains/soils they encounter most often in their kitchenware.
"There's still room for improvement in dish sprays," Risgaard Larsen stresses.
See how lipase gives consumers even more convenience
When Novozymes added lipase to a dish spray currently on the market and tested its performance on greasy and oily soils, the benefits were clear. Lipase significantly improved performance within only 1-5 minutes, saving consumers additional time and effort.
Even with 20% surfactant reduction and shorter contact time, the dish spray with lipase performed better than the spray without lipase – removing up to 367% more soil in only 5 minutes. Nor is it necessary to adjust pH from neutral to high to cut grease. While the product has a pH of 10.9, the dish spray with lipase performs at pH 7. Watch the video here.
More power for consumers; more profit for you
"You can even deliver significantly better grease-cutting performance at a cost-neutral price point," says Risgaard Larsen. "That means you can keep consumers' needs front and center while beating the competition and growing your bottom line."
To explore your opportunities or request a sample, contact your Novozymes representative.
Explore your opportunities
Interested in hearing more about our dish spray solution and what it could mean for your business?
contact us