Welcome to a
new world of
clean
Novozymes Pristine® is a ground-breaking technology that liberates trapped body grime from laundry and offers a new baseline of cleaning.
US consumers changed habits more than UK during COVID-19
Novozymes partnered with our international research partner, Conjoint.ly, to compare behavior change across markets
This article is based on a study presented by Conjoint.ly's Jason Widjaja in a short webinar. To view the webinar, please click here.
The impact of COVID-19 on household cleaning
The world has been living in a pandemic and learning how to adjust to a new normal for months now. Part of that new normal has been spending more time at home, whether because of a stay-at-home order or because it simply feels safer. A new trend has emerged during all this time spent at home- people are cleaning their kitchens and bathrooms much more frequently than they used to.
Together with Conjoint.ly, Novozymes took a look at this trend and its impact on consumer behavior in the US and the UK. So, what is changing in household cleaning product consumption?
Trend: Cleaning and using disinfectants around the home more often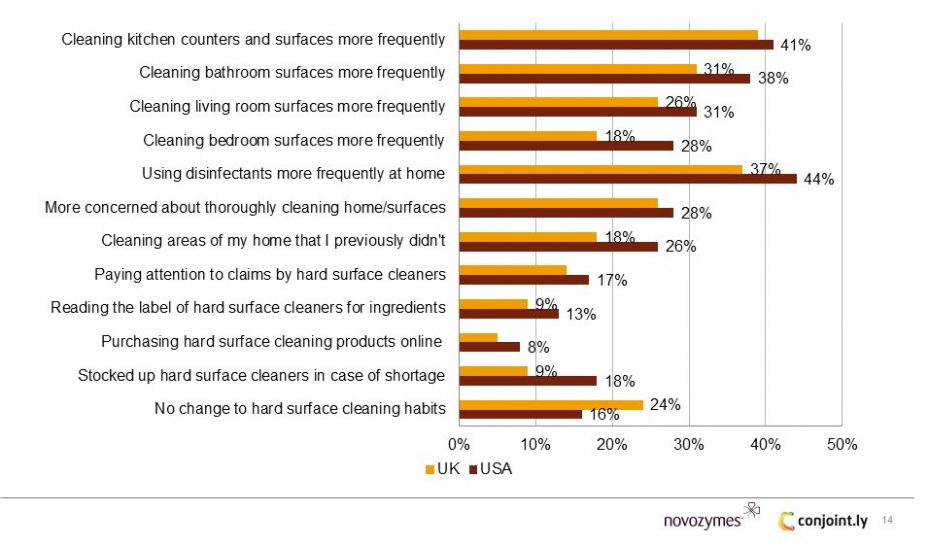 As concern for health and safety has increased, so has awareness of keeping surfaces around the home clean. Consumers have begun to associate cleanliness with staying healthy. To have a sense of security in their home, consumers have begun to clean more frequently and use more disinfectants.
More US consumers reported they are using disinfectants more frequently than UK consumers. In fact, in the UK, consumers reported that their cleaning habits are not changing as much as they are in the US.
Trend: Doing laundry more frequently and stocking up on detergent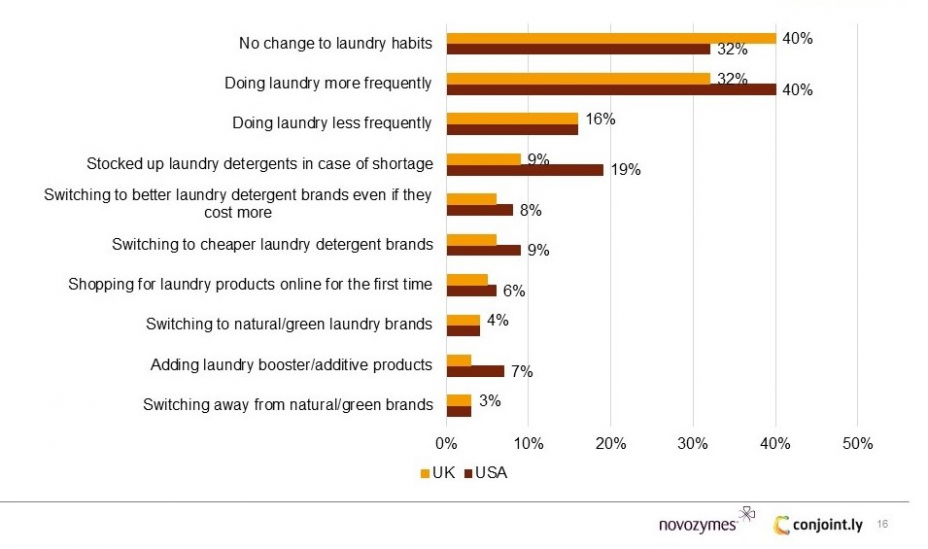 When COVID-19 first hit headlines, people began to look for ways to protect themselves and their families from it. To combat the spread of germs and transmission of COVID-19, consumers developed a new habit of washing clothing more often to get rid of anything harmful that was potentially clinging to fabrics. Due to this trend, as well as potential shortages of supplies, consumers have also begun stockpiling laundry detergents.
The US has seen the effect of this trend more than the UK has, with 2 out of 5 consumers doing laundry more frequently than before, and 1 out of 5 stocking up on detergents.
Trend: Washing dishes more frequently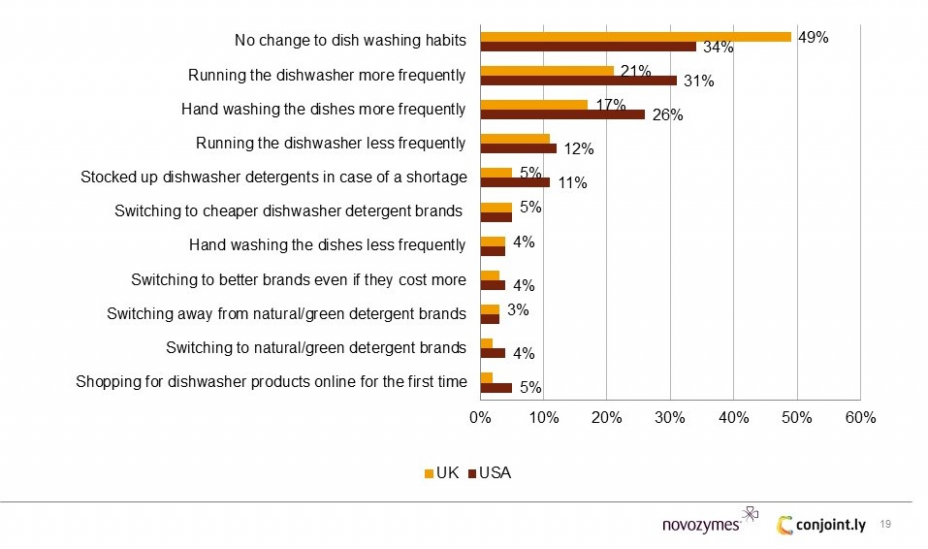 While people are at home more, they are also cooking more. Combine more dirty dishes with the mindset that clean equals healthy, and a trend of increased dish washing emerges. The frequency of hand washing and running the dishwasher has increased in both the US and the UK.
Similar to the concern for supply shortages in laundry detergent, the US is also seeing an increase in consumers stocking up on dishwasher detergents.
Trend: Expecting reductions in household income
An unfortunate trend that has emerged from the COVID-19 pandemic is the impact on the economy. Job security has been disrupted, with more than half of consumers expecting reductions to their household income.
Comparatively, more US consumers are losing their entire household income than UK consumers. However, more US consumers are also gaining benefits such as increased hours and business than UK consumers.
Trend: Less spending, more saving
Due to the previously mentioned economic changes emerging from the pandemic, consumers are reconsidering how they use their money. Households are adjusting their budgets, choosing to spend less on things like travel and shopping. In both the US and the UK, consumers are focusing on putting their income into savings and investments as they prepare for what the uncertain future may hold.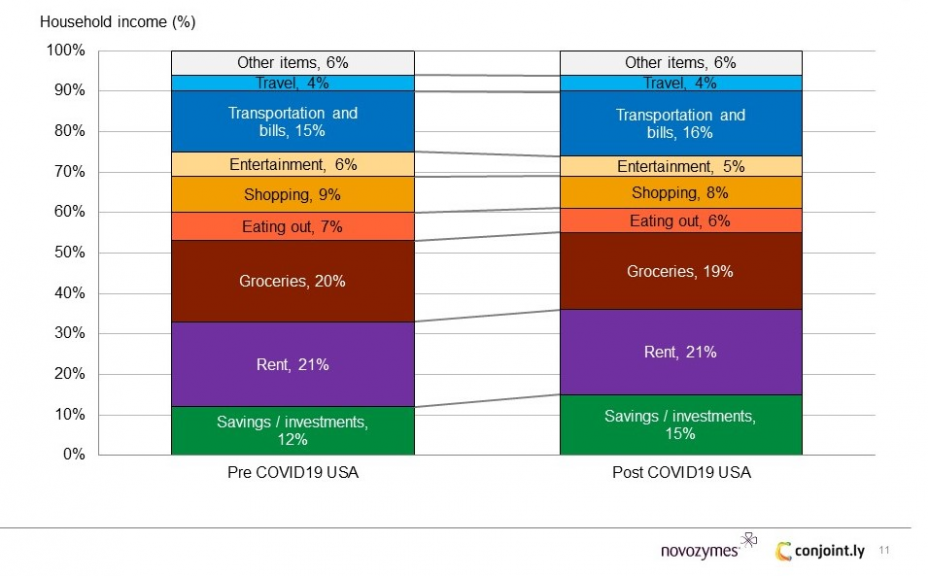 Meeting consumer demands
As COVID-19 continues to impact day to day life, consumers are facing a lot of uncertainly. They will look for brands they trust to keep them safe and happy. At Novozymes, we are here to help you meet consumer demands during these times. Contact your Novozymes representative today to learn how we can help you position your products to US consumers during and after the COVID-19 crisis.
Some questions to ponder
Do your customers gain a sense of security when they use your product?

Is your product packaged in a way that is good for the high-frequency use trend?

Is your product easy enough for customers to use as frequently as they are demanding to use it?

Are you able to make claims about your product that meet the demands of consumers during and after the pandemic?
Webinar: The impact of COVID-19 on household cleaning
In this 5-minute webinar, we share the latest analyses on:
How consumers are cleaning surfaces and using disinfectants
How consumers are doing laundry and how they are buying laundry products
How consumers are washing dishes and how they are buying dishwashing products
How household incomes have changed
Join Jason Widjaja from Conjoint.ly and learn how to quickly take advantage of the latest marketing insights.
About the speaker:
Jason's role at Conjoint.ly is focused on providing support on product and pricing methodologies as well as looking after customer accounts across FMCG/CPG, insurance, technology, software and other industries. He graduated with First Class Honours in Marketing from Monash University, where he used structural equation modelling to understand the key drivers of service-sales ambidexterity amongst frontline employees.
Contact