Welcome to a
new world of
clean
Novozymes Pristine® is a ground-breaking technology that liberates trapped body grime from laundry and offers a new baseline of cleaning.
A simple way to achieve greater supply chain efficiency
A simple way to achieve greater supply chain efficiency
Reducing operating costs is an ongoing goal for most supply chain managers. And logistics costs alone have increased by 5.5% overall among those surveyed in Boston Consulting Group's 2019 Supply Chain Benchmarking Study of consumer packaged goods companies.
Are you also feeling the pressure to operate more efficiently?
Cut key supply chain costs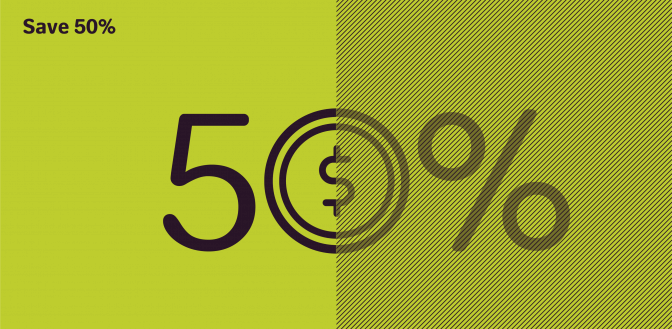 If you're a laundry powder manufacturer who takes business performance as seriously as detergent performance, consider a simple choice: Novozymes Enfuze®.
Enzyme solutions powered by Enfuze® co-granulation technology make it simple to cut key supply
chain costs by at least 50%. Plus, you can please even demanding consumers and boost sustainability.
All while simplifying your supply chain.
Save 50% on packaging, transportation, handling and storage
More concentrated products, more simple supply chain
Consider these four key steps in your supply chain: 1) packaging of enzyme products from Novozymes;
2) transportation to your facilities; 3) handling and 4) inventory management.
Depending on your current setup, each step has the potential with Enfuze® for savings of at least 50%. Let's take them one-by-one:
Cut packaging and carbon footprint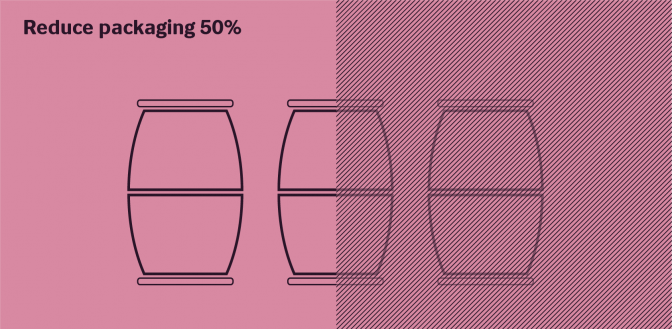 Enfuze® technology enables highly concentrated enzyme products. So, the amount of packaging needed goes down by 50% compared to standard multi-enzyme blends.
This means you save time and money on packaging waste disposal. CO2 emissions related to packaging production and disposal decrease as well.
Only half of drums needed, 50% less plastic produced and disposed, and 50% less CO2 emissions
Optimize transportation and lower emissions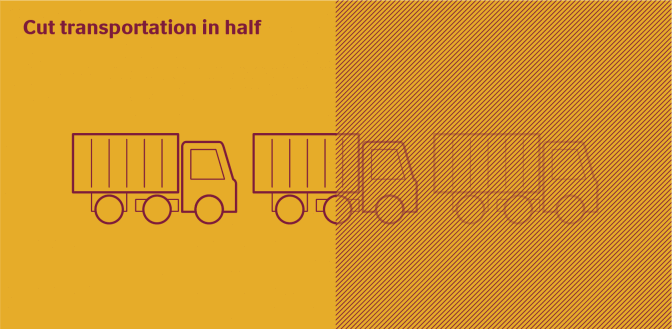 A more concentrated enzyme product also translates into a simpler transportation process.
With Enfuze®, you need only half as many trucks to transport enzymes from Novozymes to your various sites and warehouses. This translates both into lower logistics costs and a smaller carbon footprint.
"The success of your business links inextricably to the performance of your supply chain."
Only half of trucks needed, 50% lower logistics cost, and 50% less CO2 emissions
Slash handling costs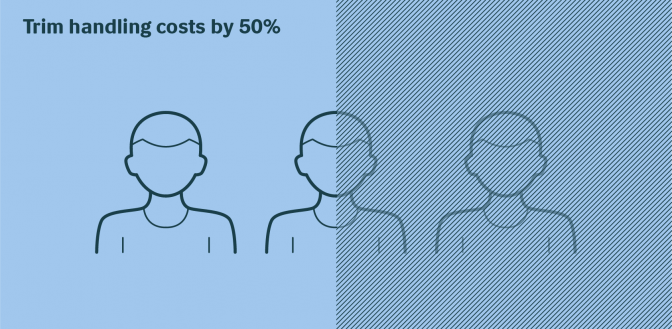 It takes roughly 20 labor hours to handle 1 metric ton (MT) of enzyme product in a fiber drum. But since 1 MT of products without Enfuze® technology equals ½ MT of products with Enfuze®, your labor costs also decrease by half.
Your handling process becomes simpler and more efficient, too. You can even consider investing those resources and savings in activities that add more value to your business and consumers.
Only half of time and labor needed, 50% faster handling and 50% lower costs
Increase inventory efficiency and flexibility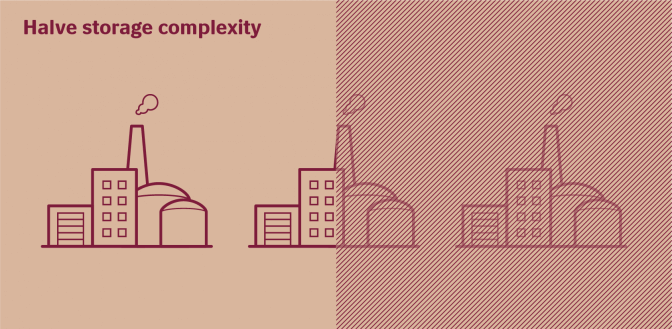 Complexity in stock units is a fundamental driver of cost. With Enfuze®, there's simply less stock to keep track of. 50% less, in fact.
What's more, an upgrade to Enfuze® translates into more warehouse space – and a reduction in costs related to inventory storage of at least 50%.
Less inventory and more space also give you the opportunity to be more flexible and adapt to your business environment. Use the extra space, for example, if you want to have safety stock on hand for potential demand increases.
Only half of space needed, 50% less inventory and 50% less storage costs
Keep seeking efficiencies
As McKinsey & Company cautioned in 2019, ". . . it's becoming increasingly difficult for manufacturers and retailers to launch new products and better services that react flexibly to shifting demand, while still maintaining (or even improving) their profitability.
"It's no surprise that leading players are focused on improving their supply chain – especially when it comes to enhancing service levels, cutting costs, or optimizing inventory levels."
Good for you, good for the planet!
With Enfuze® you can . . .
What could this mean for your business?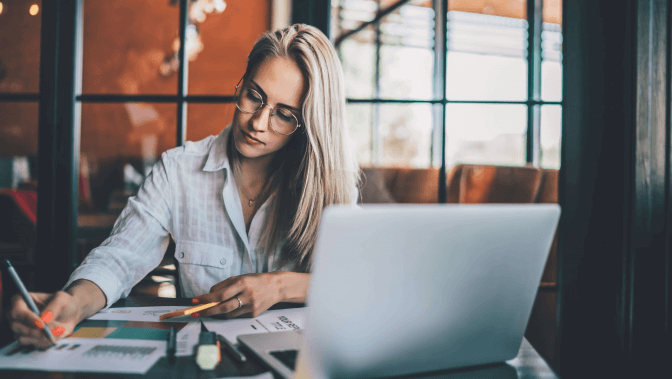 What could this mean for your business?
Learn what concrete effect Enfuze® could have on your situation. Book a no-obligation meeting with a Novozymes representative. We can touch base over the phone or in person.
Contact