Three consumer trends for the baking industry to watch

Three consumer trends for the baking industry to watch
Despite the political, economic and social changes that constantly impact the world we live in, one thing, at least, remains constant: People love bread and baked goods.
That may be why the outlook for the baking industry is so promising, with a 5-year (2019-2023) growth projection of 4.8% . So that begs the question: What are the trends currently shaping the baking world, and how will those play out in consumer behavior?

Here are three trends that are already changing the baking landscape, and we think will continue to do so in the year – or years – to come.
Bread that's meant to be shared – online
Baked goods already benefit from looking delicious. But for the consumer looking to share a photo of their treat on social media, appearance is more important than ever before.

Take, for instance, the rainbow bagels served at The Bagel Store in New York City. These colorful creations were made famous on Snapchat by reality star Jonathan Cheban. Now, you'll find lines outside this shop on weekends, with the signature cereal-flavored bagels selling out the fastest. There's even a bakery in London with a similar variety, designed to cater to UK Instagrammers.

Speaking of Instagram, did you know that 30% of users say they've bought a product they discovered on the platform? When posting your own tasty baked goods, case studies show that 11 is the magic number of hashtags to use to drive engagement – check out a good list of baking hashtags here. And while rainbow may not be ideal for every product, don't be afraid to make your product purple: not only is it the natural color of superfoods, it's also a standout color on social media.
Creating a healthier, more meaningful eating experience
Consumers are moving away from seeing food as purely a caloric necessity. Increasingly, consumers see their food as an opportunity for an experience in terms of tastes and textures, and they're especially responding to products that position themselves as natural and healthy.
One way producers are responding to this trend is by incorporating "superfood" seeds into their offerings, such as chia seeds. These seeds, while having the innate benefit of being perceived to add extra healthiness, also tend to be high in protein and/or calcium. Some bakeries aren't stopping with just one type of seed, either:

And, to take that healthy and experiential quality a step further, producers can work to improve the texture and crustiness of bread. This gives the bread a more artisanal quality – even if it's being mass produced. Here, enzymes can help by enhancing crust color, volume, texture and mouthfeel in the most natural way possible.

A recent study by Mintel also found that up to 47% of consumers are willing to pay a premium for breads with natural and healthy positioning. So if you're thinking of cleaning up your label and making it easier to understand, now is the time – the next generation of cleaner label products will likely have to go beyond making claims and actually "prove" their naturalness.
Craft baked goods – especially with local ingredients
Consumers are increasingly open to new, exciting options – and when it comes to baked goods, that can mean hybrid options like "cronuts," "duffins," and "cretzels," to name a few. These are often described as craft foods that are premium and niche products.

But bakeries are also including more and more local ingredients in their recipes, and that's a trend resonating with consumers as well. This delivers a "more local" product with a lower carbon footprint, leading to a positive feeling for the purchaser. It can also enable bakeries to offer a wider variety of products and innovative recipes to test with their customers.

Bread producers can further explore this trend by using a craft and artisan production technique. For example, sourdough bread can easily tap into the demand for "authentic" food given its natural, high-quality positioning and artisanal baking method. However, sourdough is not commonly eaten in South East Asia. According to market research firm Mintel, in the last year, 59% of all sourdough launches in the Asia-Pacific were introduced in Australia, followed by Japan (29% of NPD).

Unfortunately, these craft goods often taste great, but don't quite deliver on consumers' expectations of freshness. That's where bakeries should consider employing enzymes like Novamyl® to improve the softness, moisture and resilience of baked goods. And, since enzymes are biodegradable, the need for chemicals is also reduced.

Some producers are also reviving breads made with ancient grains, such as spelt or kamut, which provide an entirely different eating experience. As of 2019, the global ancient grains market size is evaluated to be $604 million. But it's only set to grow from there: in fact, the market is predicted to grow at a CAGR of 35% during the forecast period 2019-2025.
Can we help with your baking challenges?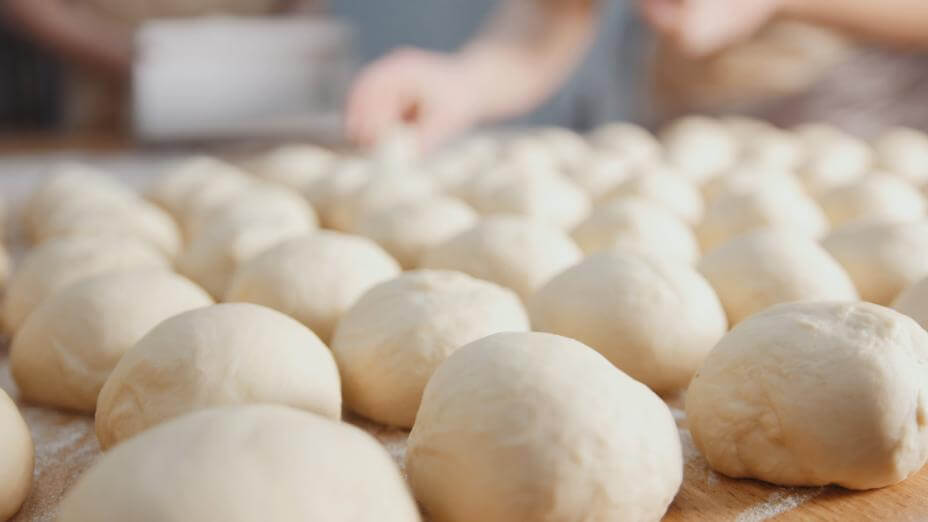 Can we help with your baking challenges?
Request a meeting with your Novozymes representative today to get concrete answers to your real-world questions.
Follow us
We regularly update our LinkedIn page with industry insights. Follow us for the latest consumer and product news. You'll also be able to download white papers and reports and register for our popular webinars.
Join us on LinkedIn for:
Consumer surveys that matter to your industry

Industry-relevant market insights

On-demand webinar recordings
Contact