Improve Nitrogen Fixation With A Biological Inoculant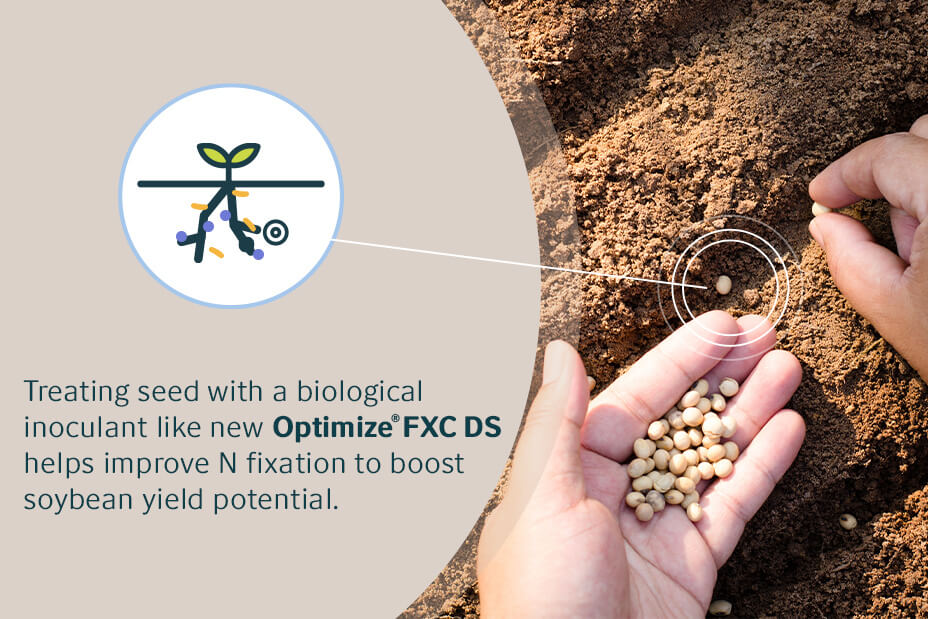 Improve Nitrogen Fixation With A Biological Inoculant
Nitrogen (N) is all around us in the air we breathe but is mostly unavailable to plants in the form needed to thrive. N fixation is the second most important biologically mediated process in the world and crucial to growing a strong soybean crop. In fact, the 70 million tons of N biologically fixed through agriculture annually has a street value of about $70 billion.
Treating seed with a biological inoculant like new Optimize® FXC DS helps improve N fixation to boost soybean yield potential.
Here's how it works:
Step 1: Soybean plants release unique signal molecules into the soil that invite rhizobia to begin nitrogen fixation.
Step 2: The rhizobia receive those signal molecules and respond by sending their own signal molecules called Lipo-chitooligosaccharides (LCO) back to the plant.
Step 3:

The plant receives the LCO molecules that attach to receptors on the roots and trigger the soybean to allow the rhizobia to enter the root, form nodules and begin fixing nitrogen. This activates root and shoot growth as well as another release of flavonoids.
But Optimize FXC DS doesn't just contain one type of rhizobia. Its new upgraded formula delivers dual strains of Bradyrhizobium for improved N fixation across a broad range of soil types and growing conditions. The result is increased accessibility to soil nutrients and water absorption for significant plant performance and more consistent yield.
A Smart Starter
A Smart Starter
In addition to N fixation, new Optimize FXC DS was designed to be highly compatible with several conventional seed treatments, deliver results with a low use rate of 1.5 fl. oz./100 lbs. of seed and provide a 120-days of on-seed viability. It's also available in flexible packaging that includes 5x2x40 units or 400 units.
Simply put, it's one of the smartest and most convenient ways to help soybeans reach their full potential.
Help your customers step up their season with the biological power of Mother Nature by asking your Novozymes® BioAg representative for upgraded Optimize FXC DS.
Think Bio-Logical.
Contact your local Technical Sales Manager for more info
Contact